History
The residents of West Nantmeal Township appreciate the ancestry and the aspects of this wonderful place that we call home.
The first settlers who entered these wooded hills between 1700 and 1710 were Welsh and the name was chosen for their birthplace in Radnorshire, Wales. The original spelling was "Nantmell" or "Nantmel", which means sweet water or land of the sweet stream. In 1739 the township was divided into East Nantmeal and West Nantmeal. In 1789 West Nantmeal was divided again and Honey Brook Township was formed to the West, which was predominantly Scotch-Irish and the Welsh in the East. In 1852 Wallace Township was divided from West Nantmeal. Agriculture became the primary pursuit of these early settlers and the raising of livestock of all kinds became of major importance.
Many of the farm deeds of West Nantmeal trace their origin to the sons of William Penn: Thomas, Richard, and John. It is of interest to note the name of Mordecai Lincoln on the original tax lists (1720 to 1725), who was the grandfather of Abraham Lincoln.
The promise of making their fortune in a new country drew many people from the Old World, who had engaged in the iron manufacturing industry in Europe. Furnaces were established and these furnaces contributed greatly to the development of America through the manufacture of all types of iron products ranging from kitchen utensils to the cannon and cannon balls used in the Revolutionary War. Isabella Furnace was begun about 1830 by David Potts and was later operated by his son Joseph D. Potts until his death in 1893. The furnace went out of blast for the last time in April of 1894 and is now a private residence.
The original ironmaster's mansion was located across the road from the furnace. The magnificent new mansion, located on Isabella Road, was built in 1892 through 1896. This "castle" or 'iron mansion" as it was known, is now occupied by the Daughters of St. Mary of Providence who provide a retreat center and housing for senior citizens. In recent years, work has ensued to preserve Isabella Furnace as an historic site.
For a more complete history of the township, please read The History of West Nantmeal Township, written by Spencer Windle in 1975 and available from the Township building.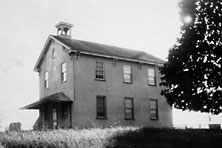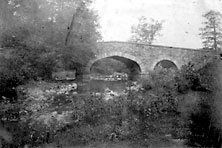 Located near Wyebrook Station.